Thank you to our host high schools and all of the students and parent that attended these events!
Good luck in college!!
We now have the dates, times, locations and registration information for Apply NSHE! College Application and FAFSA Nights 2019! Currently only run in Clark County, these events are one-stop workshops for students to apply to any NSHE institution throughout the state of Nevada as well as select out-of-state colleges plus students can also complete the Free Application for Federal Student Aid, or FAFSA. These events have been made possible by a collaborative effort between Clark County School District (CCSD), the Nevada System of Higher Education (NSHE), all seven public colleges and universities, WACAC, and Go To College Nevada. #ApplyNSHE!
October is College Application Month in Nevada. There are 12 events scheduled throughout Clark County at various host high schools. Staff will be on hand to assist with the applications. High school seniors and their parents/guardians are encouraged to attend at least one of these events. Students and parents may attend any event and may attend more than one if needed.
All events will run from 4:00 – 7:00 p.m.
Scroll down for registration information.
The dates and locations are:
| DAY | DATE | LOCATION | ADDRESS |
| --- | --- | --- | --- |
| Tuesday | October 1 | West CTA | 11945 W. Charleston Blvd., Las Vegas |
| Wednesday | October 2 | NWCTA | 8200 W. Tropical Pkwy., Las Vegas |
| Thursday | October 3 | Mojave HS | 5302 N. Goldfield St., North Las Vegas |
| Monday | October 7 | A-Tech | 1411 Robin St., Las Vegas |
| Wednesday | October 9 | Sunrise Mountain HS | 2575 Los Feliz St., Las Vegas |
| Thursday | October 10 | Del Sol HS | 3100 E. Patrick Ln., Las Vegas |
| Monday | October 21 | Foothill HS | 800 College Dr., Henderson |
| Wednesday | October 23 | Sierra Vista HS | 8100 W. Robindale Rd., Las Vegas |
| Thursday | October 24 | Clark HS | 4291 Pennwood Ave., Las Vegas |
| Monday | October 28 | Virgin Valley HS | 820 Valley View Dr., Mesquite |
| Tuesday | October 29 | Shadow Ridge HS | 5050 Brent Ln., Las Vegas |
| Wednesday | October 30 | Coronado HS | 1001 Coronado Center Dr., Henderson |
Registration
Registration for all events will be through Strive Scan. Students can register and receive their barcode by registering at StriveFair or use the Snapcode below. Once a profile has been set up, choose the appropriate event. Students can attend any event. If planning on attending more than one event, please register for all events.  Barcodes will be scanned at the tables or in the application and FAFSA rooms. It's EASY!!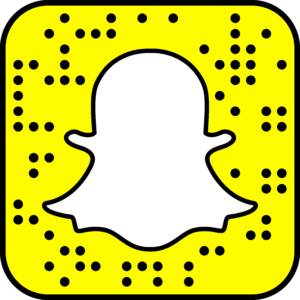 In addition the the seven NSHE institutions, UNLV, UNR, NSC, CSN, GBC, TMCC, and WNC, we will also have representatives from a few out-of-state schools in attendance. To view the flyer, click the link below:
FINAL_FLYER-College Nights 2019-CCSD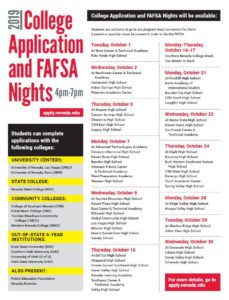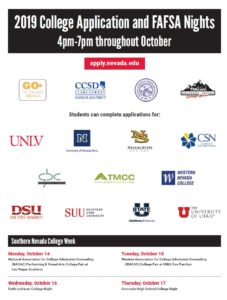 We would like to thank all of our host locations and all of the school counselors, faculty and staff that have helped to put these events together. If you have any questions about any of the events, please contact your school counselor. Special thanks to WACAC for their generous support!!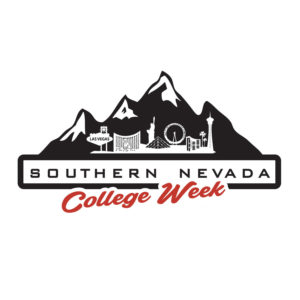 Don't forget about Southern Nevada College Week too!
October 14th – 17th
Like us on Facebook: https://www.facebook.com/Apply-Nevada-1061886880655050/
Join all of our partners on social media using #ApplyNSHE and #IAPPLIED.