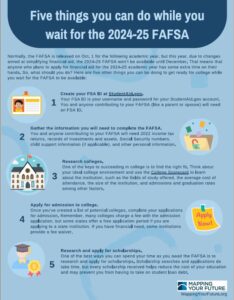 THIS PAGE IS STILL BEING UPDATED FOR THE NEW SIMPLIFIED FAFSA TO BE RELEASED IN DECEMBER. INFORMATION IS SUBJECT TO CHANGE. 
While waiting, you can download the graphic shown to the left telling you the five things you can do while we wait for the FAFSA to be released. FAFSDelayFiveThingsToDo
The Apply Nevada! events will help you  prepare to complete your college applications, Promise Scholarship applications, and when released, your Free Application for Federal Student Aid (FAFSA). This is the application you will need to complete to see if you qualify for federal financial aid. This year, the FAFSA will not be released until December. This is because the FAFSA is going through a complete overhaul to a more simplified form.
The Apply Nevada! sessions held in October will share information about federal, state, and institutional financial aid. College applications, scholarship information/applications, and creating your FSA IDs will be able to be done at these sessions. Additional information you will need to complete the FAFSA once it is released will also be provided. Until then, please note the following information will be needed when it is time to complete your FAFSA:
For the 2024-2025 school year, you will need your income information and your parents/guardians income information from 2022. There are new rules to who is supposed to fill out the FAFSA with you. That is something that will be discussed at the Apply Nevada! sessions.
You and at least one of your parents/guardians will need create an FSA ID and password, since both are needed to sign and submit the FAFSA electronically: https://studentaid.gov/fsa-id/create-account/launch
Please see the Frequently Asked Questions below for more information.
Information needed:
Your social security number—it is important that this be entered correctly.
Income/tax returns for 2022 for both you and your parent(s)/contributor(s).
Other forms, if applicable: Foreign tax returns, W-2 forms from all jobs, 1099 forms, Child Support Documents (paid or received), Food Stamp Award Letter, Untaxed Pensions/Retirement Plans, value of any checking, savings, investment accounts as well as real estate or business/farm values (not including the home in which the you live.)
Work Study: If  you are interested in work study, you will need to check the box correctly in Section One of the FAFSA.  If the box is not checked, the institution may not offer Work Study to you.
Be sure to check your email and your institutional account, if applicable, for additional required documents.
Frequently Asked Questions
What is dependency status?
Your dependency status determines whose information you must report on the Free Application for Federal Student Aid (FAFSA).
If you're a dependent student, you will report your and your parents' information. Most high school students are considered dependent students.
If you're an independent student, you will report your own information (and, if you're married, your spouse's).
What do we need to complete the FAFSA?
Be sure you or your parents bring the following in order to file your FAFSA. NOTE, this list is subject to change based on the new FAFSA changes. Please check back prior to the events to see updates:
Social Security Number.  Be sure that the number is correct!
Records of income, such as income earned from work and business, child support paid or received and any other untaxed income.  If you have them, refer to the W-2 Forms or Federal Income Tax Return IRS 1040, 1040A or 1040EZ.
Information about assets, such as savings, certificates of deposit, stock options, bonds, 529 plans and other college savings programs; and investment real estate, business and farm.
Driver's license number, if you have one.
Dates of birth, include the month, day and year.
Month and year of marriage, separation, divorce or other change in marital status.
Alien Registration Number, if you (student) are not a U.S. citizen.
An FSA ID, to sign electronically. This can be created at the October ApplyNevada sessions at fsaid.ed.gov.
List of colleges you are considering.
How can I be considered an independent student for financial aid purposes?
To be considered an independent student when completing the FAFSA, you must meet one of the criteria found on the federal financial aid website: https://studentaid.gov/apply-for-aid/fafsa/filling-out/dependency .  Also, college Financial Aid Offices will have dependency appeal processes for students who have extenuating circumstances regarding their relationship with their parents.
How do I apply for financial aid?
To apply for federal, state, and institutional financial aid, you must complete the FAFSA at https://studentaid.gov/h/apply-for-aid/fafsa.
I forgot my FSA ID to complete and sign the FAFSA. Who can help me find it?
Your FSA ID is unique between you and the U.S. Department of Education.  If you lose your FSA ID, you should use the Federal Student Aid Retrieval page, found at: https://studentaid.gov/help/forgot-fsa-id
How do I make corrections to my FAFSA?
If you find incorrect information on your FAFSA or you originally used estimated information and need to report actual figures, changes can be made by re-visiting the page on which you filed your FAFSA. You (and your parent if applicable) will need your FSA ID to sign your FAFSA again electronically.
If you find your information is incorrect after you have been awarded financial aid, you are obligated to correct your FAFSA information online. You could be billed for financial aid you are not eligible to keep. To make corrections, visit this page for helpful information: https://studentaid.gov/help/how-correct-fafsa
What is an SAI (Formerly called EFC)?
When you apply for federal student aid, your financial information is used in a formula established by the U.S. Congress. This formula determines the Student Aid Index (SAI), a number that helps institutions determine your eligibility for financial aid. The SAI is used in an equation to determine financial need. Your SAI can be found on the first page of your FAFSA Student Aid Report (SAR).
Why do my parents/guardians need to provide their income/tax information to FAFSA?
For financial aid purposes, a traditional undergraduate student is generally considered a dependent student. Dependent students are required to provide parent information to be considered for most types of financial aid.